CardMaster 21.2
Kemo's CardMaster 21.2 dual channel carrier card for 1200 and 1600 filter modules. Ideally suited to fixed and semi-fixed frequency applications. Featuring a versatile input and gain configuration. Up to 40 filter channels in one chassis.
Range of Standard Filter Responses
2 Independent Channels
2 Rugged Racks, AC or Optional DC power
Single ended / Differential / IEPE inputs
BNC inputs & outputs
Gain to +60dB
Output

attenuation

, if required
Fixed cut-off frequency with 1200 filter modules
255 cut-off frequencies with 1600 filter modules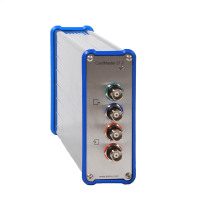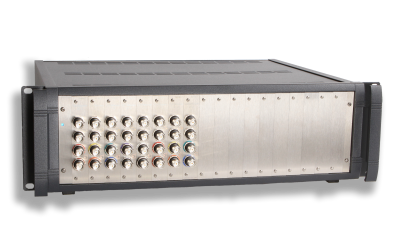 16 Channels in a 19″ Rack, Rack can hold up to 40 Channels.

The Kemo CardMaster 21.2 is a filter card designed for fixed frequency filtering applications requiring fixed settings or occasional adjustment of cut-off frequency. CardMaster 21.2 is a member of the Series 21 family of signal conditioning components and can be used in mixed systems comprising different cards from the Series 21 filters.
Up to 21 CardMaster 21.2's can be fitted to the Kemo 21.20 3U 19″ rack, or 1 card in the 21.1 minirack as shown above.
The CardMaster 21.2 replaces several older Kemo filter cards and uses the 1200 or 1600 Series filter modules to provide a flexible solution for fixed frequency applications. CardMaster 21.2 systems are usually supplied fitted in a rack, configured and tested to your requirements. For low channel count systems,<8 channels, it may be worth looking at the DIN Rail filters.
The CardMaster 21.2 is intended for applications where the filter is set up and then left for long periods without changes to settings.
Full Specification
Channels
2 per card – common zero volt
Control
On board switches or selectable components
Frequency
255 cut-off steps
Gain
0 to +60dB with output

attenuation

Filters
1200 and 1600 series filter modules
Filter Responses
Defined by filter modules. Filter Responses
Input Coupling
AC / DC, Single ended / differential.
IEPE
4mA 24V current source selectable
Signal Level
+/- 10 V pk-pk. (Usually with 'headroom')
Signal Offsets
+/- 50% on output, +/- 50% on output single ended only. Factory fitted option.
Size
1 Series 21 slot (100x220mm Eurocard)
Racks, Size and Weight
21.20 Rack(19″ 3U) – up to 36 channels, 420 x 155 x 350mm (16.6 x 6.1 x 13.8″), 10 kg, (22 lb) maximum.
21.1 Minirack – up to 2 channels, 44 x 116 x 270 mm (1.7 x 4.6 x 10.7″) 1 kg ( 2.2 lb) maximum.
Power
21.20 rack  90 -120/180-240 Vac 50/60Hz – Optional DC power
21.1 minirack 9 – 30V DC power
Frequency Range
When fitted with Kemo 1200 Series filter modules the cut-off frequency is factory set, however full instructions are included for the user to change signal filter frequency.
When fitted with Kemo 1600 Series filter modules the cut-off frequency can be set by on board dip switch to give 255 steps of filter cut-off.
Inputs and Gain
From our experience of signal filtering we have included a versatile set of input configurations and gain on the CardMaster 21.2. Each channel can be independently configured.
Inputs – AC or DC coupling, set by on board switches.
Input Mode – Single ended or differential, set by on board switches.
Transducer Power – current source for IEPE transducers, 24V 1-10 mA, set by user selectable resistor.
Input Gain – up to + 60dB. Set by single on board resistor. Kemo use industry standard top quality instrumentation amplifiers.
Trims – Gain and DC offset can be trimmed by multi-turn pots on the board.
Output attenuation – if required the output can be passively attenuated.
Series Connection
In some cases, for bandpass filtering, the two channels can be internally connected in series.
DC Power
DC power, 9-30V DC input is available as an option for the 21.20 racks, with an AC 'power brick' to power the unit from mains when available. Please check our page about DC Power.
For more information please contact us.